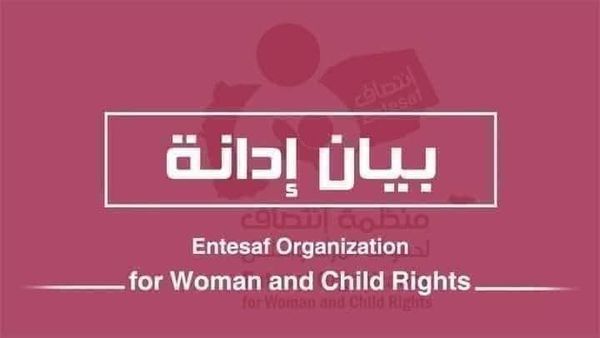 Entesaf Organization Condemns Israeli Occupation Crimes Against Gaza Civilians
The Entesaf Organization for Women and Children's Rights condemns in the strongest terms the continuation of a series of crimes of aggression by the Zionist Israeli enemy against children and women, which caused the killing of more than 7,326 martyrs, including 3,038 children and 1,792 women, and the injury of about 18,967 citizens, including children and women, since October 7, 2023, as a preliminary toll.
As 70% of the victims of the Israeli aggression are children, women and the elderly, more than 1,650 reports have been submitted about missing persons still under the rubble, including more than 940 children.
It also condemns the stifling siege, the ban on the entry of fuel and medicine, and the cutting of electricity, which caused the Gaza Strip to enter a severe humanitarian catastrophe, as the population suffers from a lack of water, food, and petroleum derivatives, which has caused hospitals and health centers to be out of service.
Entisaf Organization denounces that the crimes are conclusive evidence that the Zionist enemy has committed war crimes that seriously violate human rights law, the Geneva Convention, and international humanitarian law, which stipulates avoiding attacks on civilians, schools, and hospitals, in accordance with Article No. (13), which stipulates the protection of the civilian population, and Article No. (18) which states that it is not permissible under any circumstances to attack civilian hospitals organized to provide care for the wounded, sick and infirm, and that the parties to the conflict must respect and protect them at all times, as affirmed by Articles (47, 27) of the Fourth Geneva Convention and Article (46) of the Hague Convention Regulations. Fourth and Article (48) of Additional Protocol I stipulates that "the parties to the conflict shall endeavor to distinguish between the civilian population and combatants, and between civilian and military objects."
The organization called for the formation of an international investigation committee to look into the crimes committed by the Israeli Zionist against unarmed civilians.
#Entesaf Organization
#Al-Aqsa flood