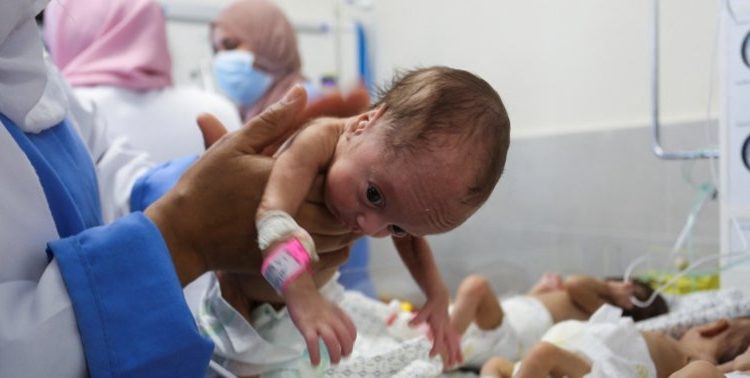 31 premature babies evacuated from Al-Shifa Hospital
The Palestine Red Crescent Society evacuated 31 premature babies on Sunday from Al-Shifa Hospital in Gaza City.
The Red Crescent said in a statement that the infants were transported by its ambulances to the south in preparation for their transfer to Emirates Hospital in Rafah in the southern Gaza Strip.
It said the evacuation process took place in coordination with the World Health Organization (WHO) and the United Nations Office for the Coordination of Humanitarian Affairs (OCHA).
A medical source at the Al-Shifa Medical Complex who asked that his name not be disclosed for security reasons said all 31 premature babies have been evacuated from Al-Shifa Hospital as part of a plan to transfer them to Egypt.
He told Anadolu that representatives of the WHO visited Al-Shifa Medical Complex for less than an hour on Saturday, during which they inspected patients, including the premature babies, and the front yard of the hospital.
He pointed out that the organization will evacuate everyone in the complex on Monday and their number is 250 people — 25 medical team personnel and 225 displaced people and patients who could not be evacuated due to their inability to walk.
He said Israeli forces are still present at the hospital conducting searches, including in the sections that displaced people and patients exited from on Saturday and digging in its rear courtyard.
He added that gunfire and the sound of shells being fired are occasionally heard in the vicinity of the complex, especially in the Al-Shati refugee camp and the Al-Remal neighborhood near the port."
Regarding Al-Ahli Baptist Hospital in Gaza City, another medical source said it is still working with extremely limited resources after its courtyard was turned into a place for treating the wounded from the continuous Israeli raids on the city.
The source said that difficult cases are being transferred to receive treatment at the Indonesian Hospital in the northern Gaza Strip.
According to eyewitnesses and local Palestinian sources, Israeli forces are only about 500 meters (1,640 feet) away from Al-Ahli Baptist Hospital, where they are stationed in the Shujaiya neighborhood in Gaza City.
On Saturday, a Palestinian medical source told Anadolu that the Israeli army gave the administration of the Al-Shifa complex an hour to evacuate the hospital, but it was impossible to evacuate everyone due to difficult cases preventing them from leaving in addition to the presence of dozens of premature babies.
The Israeli army said in a statement that it did not request the evacuation of patients and medical staff but responded to a request from the hospital's director, Mohammed Abu Silmiyah, to allow the displaced people in Gaza to head south through a safe passage.
According to the Ministry of Health in Gaza no food supplies or water have entered the Al-Shifa complex for eight days, confirming the deaths of 51 patients, including four premature babies, during this period.