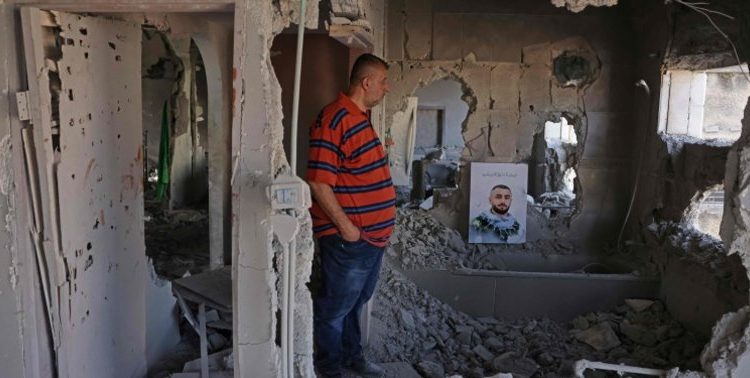 Israeli army destroys Tel Aviv attacker's West Bank home
The Israeli army has destroyed the home of the man who carried out a deadly gun attack in the Israeli coastal city of Tel Aviv nearly three months ago.
Israeli troops detonated explosives on the second floor of a four-storey building near Ramallah in the West Bank on Tuesday, the Palestinian news agency Wafa reported.
The apartment belonged to the family of the attacker, and neighbours also had to leave the building. Two people were injured in confrontations between residents and Israeli forces.
The attacker had opened fire on passers-by on the busy Dizengoff Street in the centre of Tel Aviv on March 9. Two young men were seriously injured, and one of them died less than two weeks after the attack. The attacker was shot dead by police officers.
Israel uses house demolitions as a punishment and deterrence measure. Human rights organizations consider this form of collective punishment a violation of international humanitarian law. However, Israel's highest court has repeatedly allowed house demolitions and rejected complaints against them.
The security situation in Israel and the Palestinian Territories has long been extremely tense. There are repeated clashes between Palestinians and the Israeli military in the West Bank. The army has been carrying out more raids there since a series of attacks on Israelis that began more than a year ago.
On Monday, three Palestinians were killed in such a military operation. They were fighters of the armed Palestinian al-Aqsa Brigades, the organization said afterwards. The al-Aqsa Brigades are the military arm of the Fatah movement of Palestinian President Mahmoud Abbas.
Since the beginning of the year, 116 Palestinians have been killed in Israeli military operations, confrontations or attacks of their own. In the same period, 17 Israelis, one Ukrainian and one Italian were killed in attacks.
Israel conquered the West Bank and East Jerusalem, along with other territories, during the 1967 Six-Day War. The Palestinians claim the territories for their own state – with East Jerusalem as its capital.