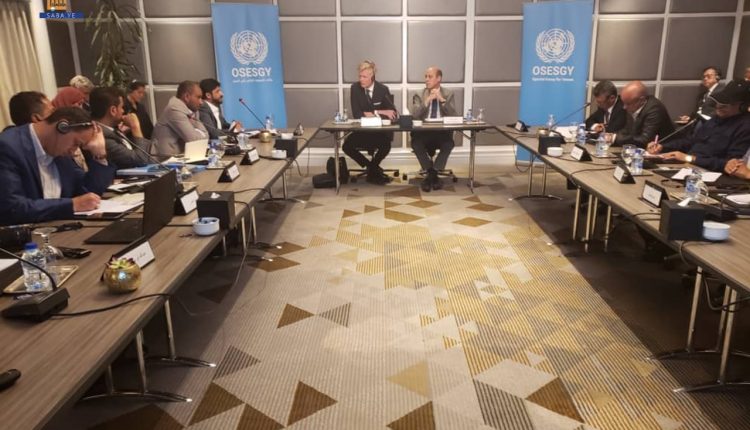 Maj. Gen. Al-Razami confirms offering important initiatives in Amman negotiations
Major General Yahya Abdullah al-Razami, head of the government team in the ongoing negotiations in Amman, Jordan, said the team has made important initiatives that contribute to lifting all that causes human suffering to the Yemeni people in general and the people of Taiz in particular.
Maj. Gen. Al-Razami told Saba that the initiatives presented by the team contribute to the opening of some roads, especially in Taiz, Marib and Dalea, to alleviate the suffering of the people of those provinces caused by the aggression against Yemen.
"We are still waiting for progress in the initial steps and for the other side to accept the opening of roads in the first phase, take these serious and practical initiatives and prove that it really wants good and lift the suffering of the people of Taiz and the rest of the provinces," he said.
"Although the negotiations are taking place in a good atmosphere and bode well, unfortunately we were surprised that the delegation of the other side wants no discussion to open roads except in areas that are confined to a clear violation of the armistice clauses, which provide for the formation of committees to open roads in Taiz and other provinces," he said.
The head of the government team pointed out that the other party seems to suffer from some fragmentation, lack of unity of leadership and lack of ownership of the decision, pointing out that these are some of the reasons that led to his delay in coming to participate for more than three days, and then his reluctance not to take advantage of the opportunity and accept the first fair ideas to open the roads in Taiz, Marib, Dhalea and Bayda.
He expressed the hope that the other side and those behind it would realize the humanitarian responsibility towards the Yemeni people, who were suffering and continuing to suffer from unjust siege and aggression and the disastrous consequences.